Join Nitza, Jamie Louis and David Mathews as they interview Bruce Brill of Israel.  Bruce made aliyah and pioneered the settlement of Tekoa, Israel.  Did you know that the English word "settler" is more accurately described, in Hebrew, as an "inheritor fulfilling G-d's plan?"  BEFORE Israel became a nation Jews living in the Land were also called Palestinians and the word "settler" was not a politically correct "dirty" word.  In fact, the word "settler" would indicate that one was a colonizer bringing a different language to a new land — not a return of the land's people and renewal of their language.  Thus, as prophesied in Scripture, Jews who returned were not colonialists — rather they were fulfilling prophesy.  Hear the haunting tale of Bruce sharing how he was an American serving in the U.S. Army and witnessed, just prior to the Yom Kippur War, the betrayal of the nation of Israel by misinformation given that caused 3,000 deaths to IDF soldiers.  The moment of reckoning and an awakening of who he really was became realized and he vowed to serve his people in their land; thus, Bruce made Aliyah.  Learn which American President was key to the survival of Israel during the war.
Learn about the differences of the Hebrew calendar by reckoning the moon and the long used Rabbinical calendar and how one Rabbi predicted that the day would come that there would need to be an adjustment near the time of the coming of the Moshiach.
Listen to the story of Bruce's young son and his determination to serve as an elite Israeli Defense Force Soldier in the Land.  Particularly, his troop is defending and protecting Samaria which is the Land of Efrayim.  They humbly ask for your tangible support for his troop  who are guarding the Land of Efrayim in Samaria.  So, heads up dispersed of Israel who are in covenant with the G-d of Abraham, Isaac and Jacob!  Here is your chance to help support the land that will one day be your home too!
To help give to support the soldiers defending the Land email mojudica@aol dot com OR call eight one eight 481-905 zero.
Be sure to join us at JUBILEE SUKKOT and LEARN MORE from BRUCE BRILL as he will be a guest speaker.
Also, HELP SUPPORT JEWISH BROTHERS and IDF SOLDIERS when you purchase the beautifully illustrated book: ENTER HIS GATES TO YOUR JEWISH ROOTS!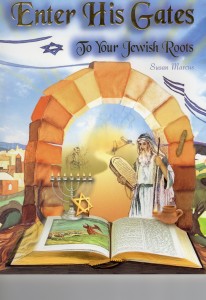 This books is a great primer for you and your family to enjoy or give to family and friends.
Podcast: Play in new window | Download (48.6MB)